Our Work:
Our mission: To inspire community based, conservation-minded tourism, by unifying local and international expertise and resources.
Guías Unidos worked on Ometepe Island in Nicaragua during the summer of 2016. We tried out several pilot projects, the most promising of which will be built upon in future work. Our first year work included:
– Began practice training sessions to gauge skills, strengths, and topics to work on with guides.
– Surveyed guides, other local tourism business people, and visitors to determine what types of tours and skills may be most useful for guides.
– Met with other organizations doing similar work locally and regionally to learn about successful practices.
– Work with local elementary and secondary students to build environmental education and English language programs.
– Meet with local stakeholders to understand other possible areas of work that may benefit the community of Ometepe.
Our first summer's work was promising. We are adding further projects, including:
– Working with local guides to establish curricula for training in English language, visitor services, tour techniques, earth sciences, anthropology, and first aid.
– Encouraging women and girls to consider guiding as a career, and empowering them to fully participate in cooperatives and workshops.
– Helping build resource libraries for local guides using international and local knowledge of flora, fauna, geology, and archaeology, as well as supplies for rent or borrow such as binoculars, field guides, and hiking gear.
The plan is to work directly each US winter (October/November to March/April) on Ometepe, and return to the US to keep our own skills and training up, as well as secure funding. We can use help any time of year, whether we are there or not. If you're interested in volunteering or donating, please check out our Get Involved page. And thanks!
Who We Are: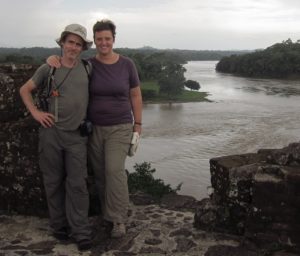 Jeff and Kate Zylland have combined more than 20 years of experience in ecotourism, education, and guiding. For the last several years, they have lived the seasonal life, working for up to six months at a time in National Parks and environmental education centers in the US, and volunteering internationally. 
While working in Nicaragua during one of the international volunteer seasons, Jeff and Kate took a weekend trip to Ometepe Island, and met a tour guide named Arlin Hernandez. Arlin spoke of organizing a cooperative of guides on the island, which would allow them to make a curriculum of training so there would be a guarantee of quality. Training, Arlin said, could be hard to come by. But as park rangers and environmental educators in the United States, Kate and Jeff had a lot of training. An idea was born.
Our Partners:
Cooperativa Guías Turisticas de Ometepe is the group Arlin and his colleagues formed to bring better guiding services to Ometepe Island.
www.facebook.com/Cooperativa-Guias-Turistico-de-Ometepe-945833258784071/
Amigos de Ometepe is a new, grassroots organization of Ometepe ecotourism professionals, hotel and business owners, and other stakeholders who want to help protect the island's natural resources. Guías Unidos is a partner, lending our experience in public lands to the protection of the Volcan Maderas Nature Reserve.
www.facebook.com/amigosdeometepe
Fauna y Flora Internacional Fauna & Flora International (FFI) has been active in Nicaragua since 1998, contributing to biodiversity conservation and strengthening local and national partners. The FFI programme in Nicaragua works together with the Ministry of Environment and Natural Resources, local NGOs and communities to support the management of protected areas.
http://www.fauna-flora.org/explore/nicaragua/
Si a la Vida works on Ometepe as well as in Managua, to prevent substance abuse and domestic violence through reaching out to at-risk youth in local communities and providing after-school tutoring, counseling, and out-of-the-box education. 
www.asalv.org
We are a partner of Earth Island Institute, an incubator for environmental projects.
www.earthisland.org/index.php/projects/by-focus/